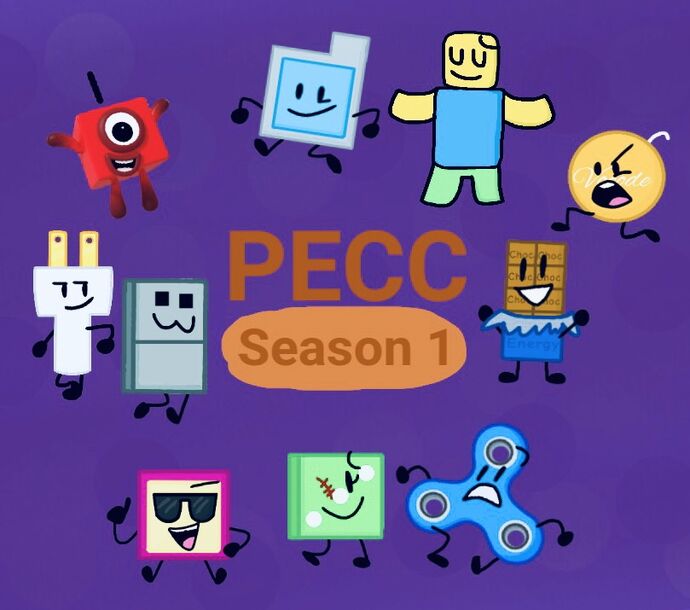 Summary: This Season consist of CBS, Energy Bar, FiDgetty Rick, Fuzzy Dice, Game Card, PinkSheep, Plug, N00b, Numberblock 1, & Vocode. At the beginning of the season PinkSheep was disqualified for being rude, & disrespectful to others, & a couple of days after Plug quit the game for no valid reason.Then soon later in the game Fuzzy Dice Formed multiple alliances, & got Game Card out, & soon tried to get FiDgetty Rick, but the tie got Numberblock 1 out. Later in the game N00b won immunity to the Alumni so Chocolate Ball made his Emoji first then Vocode got angry over it, & started to complain then soon she got eliminated, neglected CBS for not getting eliminated, Then soon after CBS quit. Then this leaves us with our final 4 then N00b got eliminated, then we had a final 3 FiDgetty Rick got eliminated with no votes tio win the it was either Energy Bar, or Fuzzy Dice to win PECC Season 1, but he CBS didn't vote in time so it was a tie vote, & we used a random wheel, & Energy Bar won, but if CBS voted Fuzzy Dice would've been crowned winner of PECC Season 1.....
Statistics:
Elm Votes given:
Vocode: 5
Game Card: 4
N00b: 4
CBS: 1
Energy Bar: 1
Challenge Wins:
Vocode: 1
N00b: 1
Cameos in others entries:
Chocolate Ball: 6
Energy Bar: 3
Fuzzy Dice: 4
CBS: 4
Vocode: 2
PinkSheep: 2
Plug: 3
Game Card: 3
N00b: 1
Elm Order:
10th - PinkSheep (DISQUALIFIED)
9th - Plug (QUIT)
8th - Game Card (4-2-2)
7th - Numberblock 1 (3-3-1) (RANDOM WHEEL)
6th - Vocode (3-2-1)
5th - CBS (QUIT)
4th - N00b (3-1)
3rd - FiDgetty Rick (2-2-0)
2nd - Fuzzy Dice (2-2-0)
1st - Energy Bar (2-2-0)
Community content is available under
CC-BY-SA
unless otherwise noted.